Captain Harry Privette holds a 100 Ton Masters license and has thirty-five years of yacht delivery and sailing instruction experience.
He has completed a world Circumnavigation, two Trans Pacific crossings, three Trans Atlantic crossings, more than 25 ocean yacht races, and has sailed most of the US and Central America coastal waters, the Mediterranean & Caribbean seas, and many islands of the Pacific and Indian oceans. He has taught sailing and boating at several institutions including the U.S. Naval Academy Sailing Squadron and was Operations Manager of a 35 boat charter fleet.
Previously, Captain Privette spent 18 years as a financial planner; three years as a college professor; held a position as Protocol Aide to the Governor of Florida; and is a US Naval Reserve Officer. Captain Privette teaches our offshore training cruises.
Learn more about Captain Privette
in this
Sailing Today
report.
---
Navigator, 1st Mate, and Webmaster Volker Petersen has a power boat and sailing licence and twenty-five years of yacht boating experience.
He has completed yacht deliveries on one Trans Atlantic crossing and two Trans Pacific crossings in addition to countless trips in the coastal waters of Germany, Sweden, Denmark, Croatia, Carribean, and the US.
After retiring as President & CEO of the 4th largest US printing company and leading that company for 11 years, Petersen is now a GPS Yacht Deliveries Navigator, an Adjunct Professor at the University of St. Thomas in St. Paul, MN and Hamline University and a SCORE Mentor.

---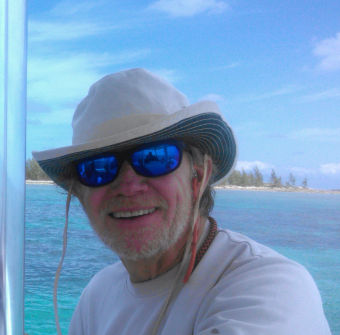 Captain Bill Hughes has over forty years yacht delivery and boating experience including the last eighteen with my own sailboat and now powerboat. He has cruised his own boats on the Chesapeake Bay, up and down the East coast with two trips to Maine, one trip to Bermuda, four trips to the Bahamas and six to Florida. He also has extensive cruising experience in the British and U.S. Virgin Islands. Additionally he has deliverered boats to New England, Bermuda, Florida, the Bahamas, and the Virgin Islands. He also crewed on a trans Atlantic passage as first mate and navigator. He completed courses with the Naval Academy Safety at Sea Seminar, Offshore Sailing School and Power Squadron. Bill is a retired pilot from both the Air Force and the commercial airlines and has been around the world numerous times.